Douala, 1 October 2020 – Cameroon's Minister for Housing and Urban Development, Ms. Celestine Ketcha-Courtes on Wednesday officially launched week-long celebrations to mark the 2020 World Habitat Day.
The celebrations will include a host of activities, namely: seven roundtables, panel discussions, site visits, a city cleanup campaign, launching of the Ideas Competition dubbed "Cameroon Urban Housing Project and awarding ceremony".
Briefing the media, the Minister said: "Douala  was the choice of the municipal authorities, during the celebration of the 2019 edition of the World Habitat Day in Yaoundé. As the gateway to Cameroon, the city of Douala is the headquarters for most businesses based in our country. Demographically, Douala hosts the largest urban population of Cameroon. As a cosmopolitan city, Douala is a melting pot of people from the hinterland and from several West and Central African countries."
The series of events will culminate in the official observance of the World Habitat Day on Monday 5 October which will include a speech from UN-Habitat's Executive Director, Ms. Maimunah Mohd Sharif.
Other international officials expected to join the celebration virtually include: the UNECA Executive Secretary, Dr. Vera Songwe; the Burundi Minister of Social Housing, Infrastructure and Equipment; Mr. Déogratias Nsanganiyumwami, the Managing Director of ShelterAfrique;  Mr. Andrew Chimphondah and the Commissioner of Political Affairs for the African Union Commission,  Cessouma Samate.
World Habitat Day is being celebrated in towns and cities around the world on 5 October with the Global Observance coming from Surabaya, Indonesia.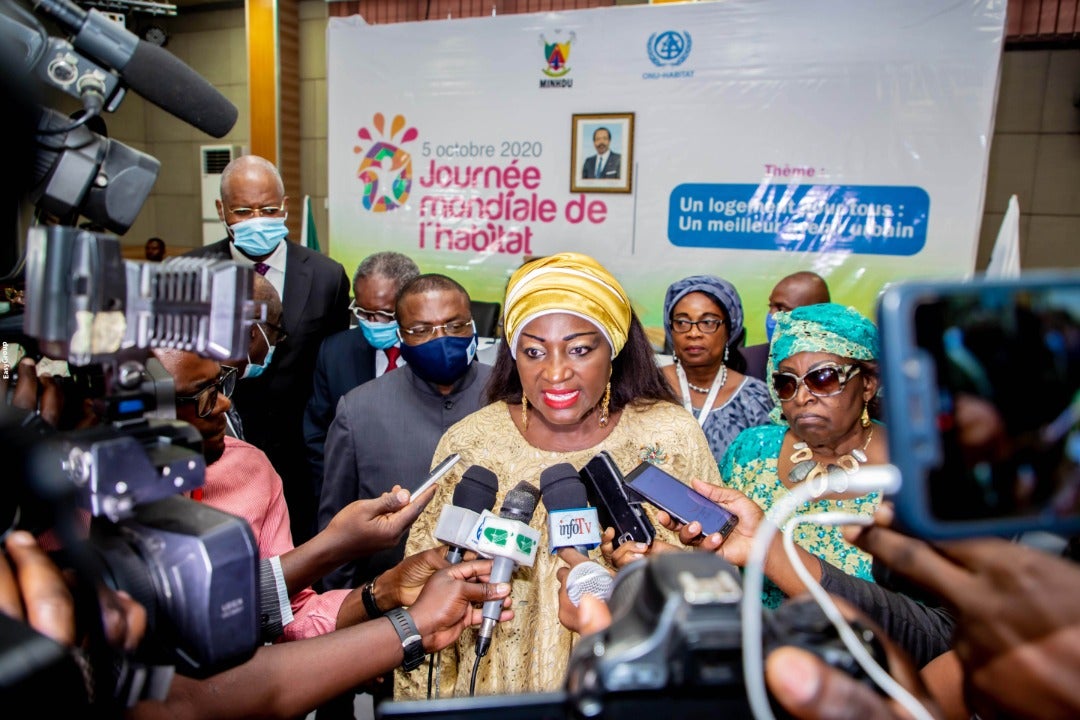 Cameroon's Minister of Housing and Urban development Célestine Ketcha-Courtes, speaking during the press briefing in Douala on celebrations to mark World Habitat Day
[MINHDU, September 2020]