Tboung Khmum Province, Cambodia, 30 May 2020 -  Over 200 new and rehabilitated houses for families whose homes were damaged or destroyed two years ago by flooding were handed over to their owners in an official ceremony.
The project was funded by the Government of Japan and implemented by Cambodia's General Department of Housing, Ministry of Land Management, Urban Planning and Construction and UN-Habitat in Cambodia. It involved community members' active participation in the rehabilitation process, used their traditional knowledge and skills and promoted community ownership.
One beneficiary, Duth Chhundy said: "When we are in solidarity with others in the community, we can gain a lot of benefits. Together, we'll try to be well prepared for future disasters."
The handover ceremony for the houses provided through the  "Project for the Support for Improving Living Environment and Disaster Prevention Capacity in Cambodia" was attended by local authorities and community representatives.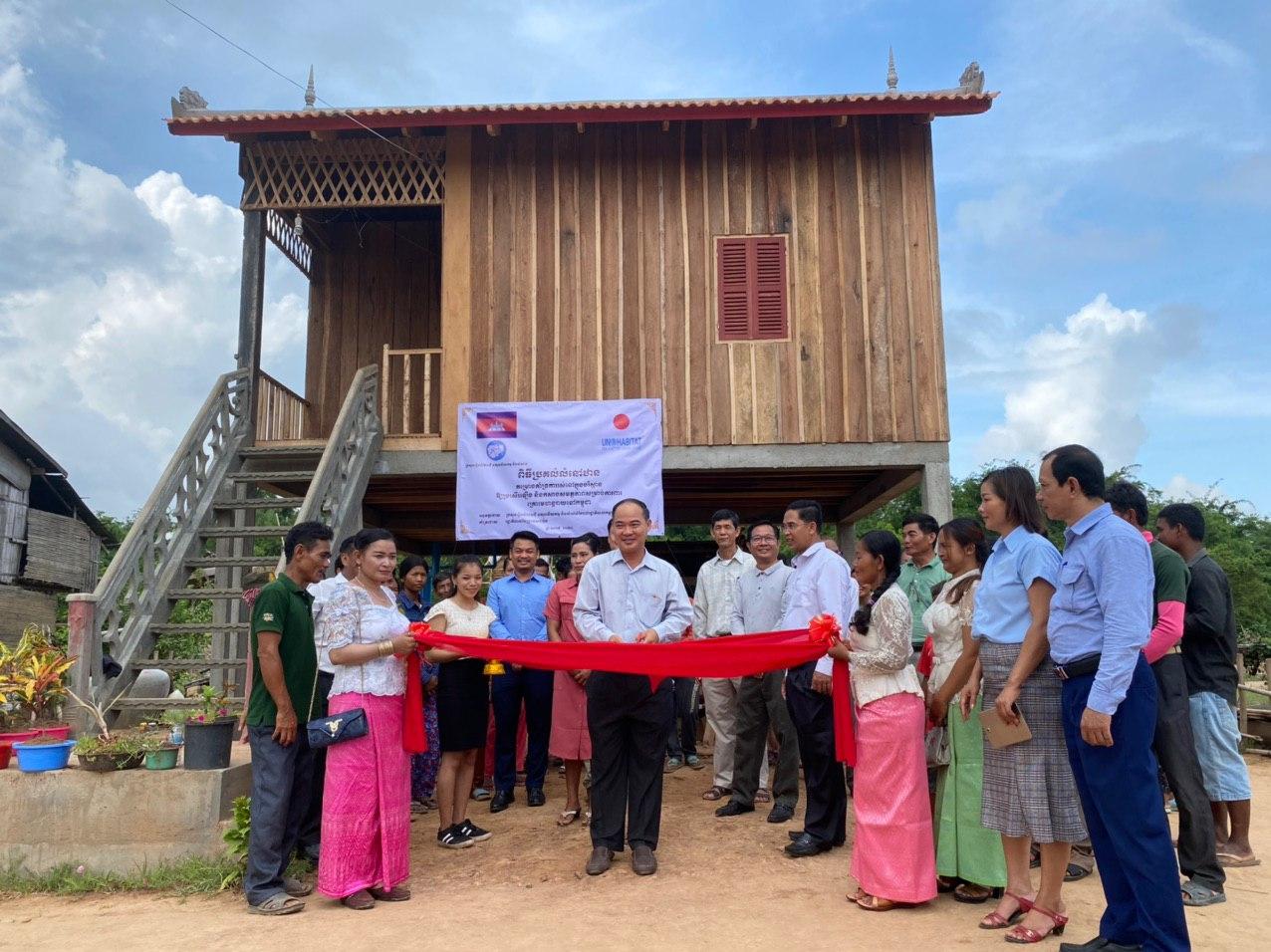 UN-Habitat Programme Manager for Cambodia Vanna Sok at the official handover of over 200 new and rehabilitated houses to families whose homes were damaged or destroyed in flooding in 2018
UNHabitat
The year long project in Tboung Khmum District, Tboung Khmum aimed to help communities recover from the effects of the tropical storm Son-Tinh in 2018 which caused heavy flooding. It also looked at strengthening the resilience of the flood affected population through disaster preparedness measures.
Based on UN-Habitat's expertise and experience in post-disaster recovery in Asia and the Pacific region, the project was implemented using the People's Process approach, a community-driven rebuilding approach which trains members of households whose homes were destroyed to rebuild their homes and communities.
UN-Habitat Programme Manager Vanna Sok, said: "This resilient housing project was successfully completed and demonstrated that disaster recovery and livelihood improvements can be achieved at the same time through the Build Back Better approach. This experience has been inspired us to scale up throughout the country."