Suva, Fiji, 2 July 2020 –-UN-Habitat has handed over the last of 229 food packages to Fiji's Ministry of Housing and Community Development to support the Veilomani Food bank.
The Food Bank was started to address the food shortages resulting from the COVID-19 pandemic and has been targeting households in the country's informal settlements.
UN-Habitat has been active in supporting the Veilomani Food Bank, an initiative by the Ministry of Housing and Community Development. Households can apply for food support and are vetted to ensure the food packs reach those most in need. The vetting process seeks to identify families who have lost all sources of income due to COVID-19, along with those who have existing vulnerabilities, such as family members with disabilities or existing medical conditions.
"Over the past month we have received over 3,000 applications," said Danish Ram, Clerical Officer at the Ministry of Housing and Community Development. "We were overwhelmed by the huge demand and had to temporarily stop taking new applications."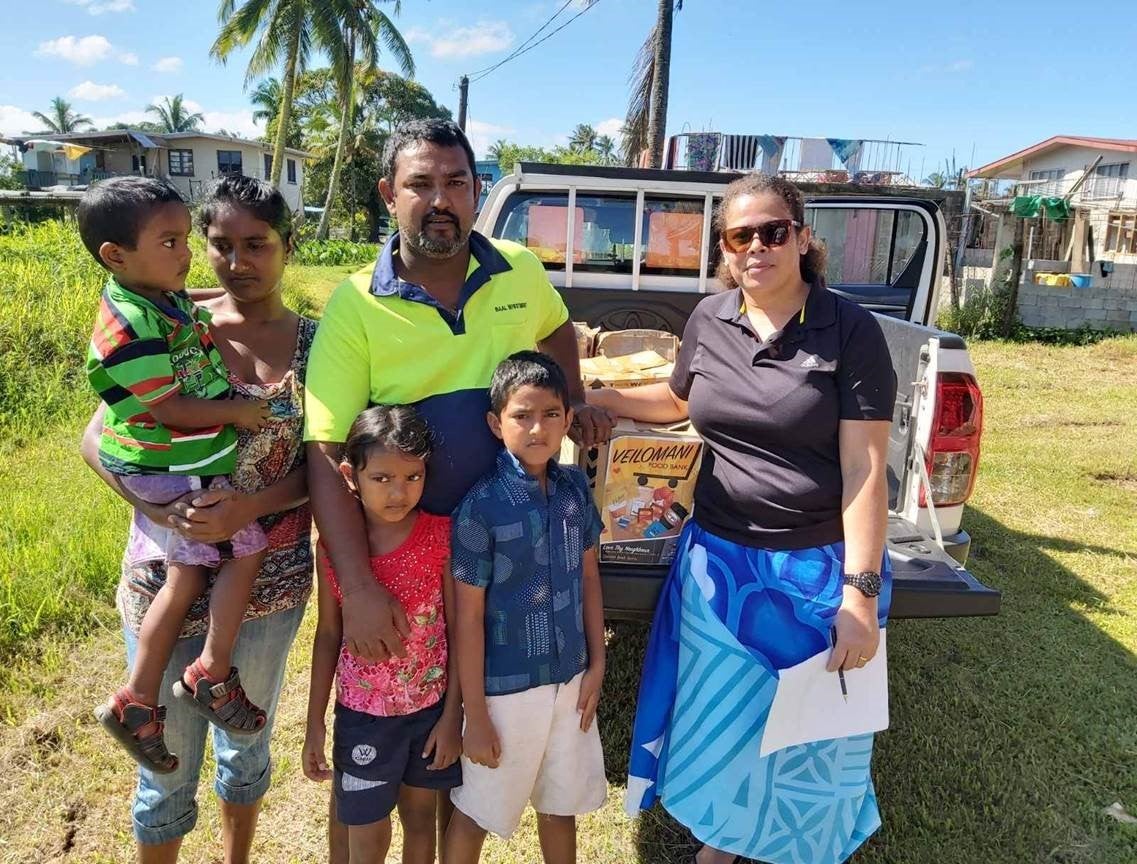 Households receiving food support from the Veilomani Food Bank to mitigate the effects of COVID-19 in Fiji on 2 July 2020
Ministry of Housing and Community Development (MHCD), Republic of Fiji
The support packs include basic food and hygiene supplies that can last a family of four for two weeks. The Food Bank has so far supported around 300 families from the Central division of Fiji, and most of the 229 UN-Habitat packages will be supporting families in the West. Initiatives such as the Veilomani Food Bank provide critical support to families who have few alternatives in this unstable time.
In June 2020, UN-Habitat carried out a rapid assessment of the impact of COVID-19 in 16 informal settlements which found that the income loss has affected households' food security. Families described having to skip meals or reduce portions because they were worried about running out of food before being able to afford more.
Inga Korte, the UN-Habitat Team Leader for Urban Climate Resilience, said: "We find that incomes have drastically decreased over the past two months, with many households now surviving on less than USD 95 a month. Especially in urban informal settlements people are struggling to meet their food demands as they have limited access to land for farming."
The Government of Fiji declared the country COVID-19 free on 5 June 2020 however Fiji's borders remain closed for the foreseeable future. The loss of international visitors as well lockdowns and movement restrictions have resulted in job losses and reduced hours for many formal and informal workers.