Sittwe, Myanmar, 2 April 2020--  Daw Yin Thein runs her own store at the busy Ma Gyi Myaing Market in Sittwe, Rakhine State. For households and small business owners like her in Sittwe township, the battle against Covid-19 comes at a time of acute water shortage. While water levels tend to dip in the summer, this year has seen an early onset of the summer drought. Globally, it is estimated that around 2 billion individuals like Daw Yin Thein lack access to adequate water. Practicing the most basic of guidelines on Covid-19 can be a difficult task due to lack of access to water and soap.
UN-Habitat is working with community groups and small businesses in key locations across Sittwe to install a network of public handwashing stations. Daw Yin Thein says, "In several areas of the city, there is water scarcity due to the dry season. In addition, it has now become difficult to get soap in the market. The hand washing station located close to the market is very useful; people who are going back home after buying fish, meat, and vegetables can wash their hands here and be safe from Covid-19."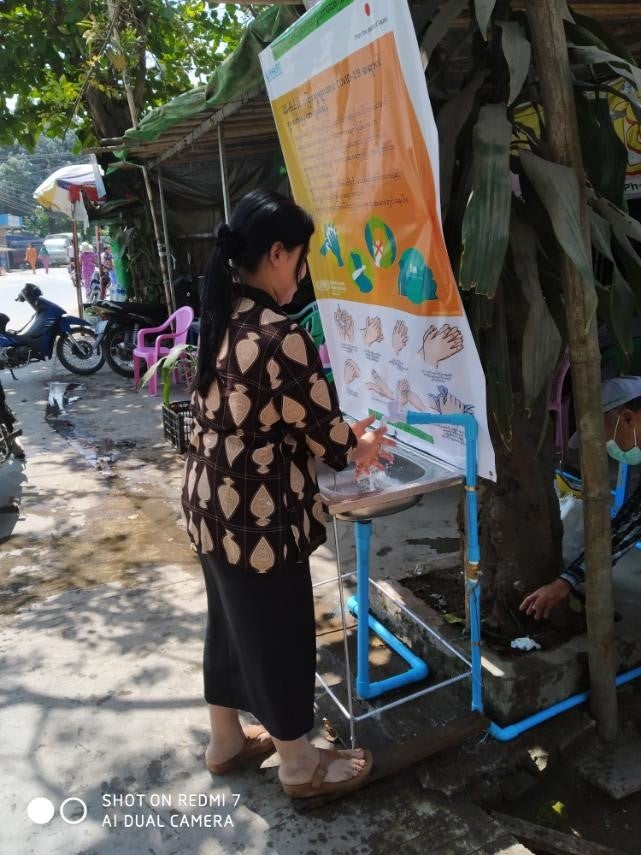 Ko Thein Lwin, who runs a popular coffee shop in Sittwe, worked with UN-Habitat to install a public handwashing station. He says, "Before my customers enter my shop, I request them to wash their hands. The same goes for my staff as well. I've seen several of my customers read the key messages that go with the handwashing station while waiting for their orders to come. I feel that my customers can disseminate this important knowledge in their communities."
UN Habitat has installed 5 handwashing stations in the past week as communities in Sittwe gear up the fight against Covid-19. In addition, Information Educational and Communication (IEC) materials were distributed to communities that self-financed their handwashing stations at the evening market and the city's bus terminal. UN Habitat's work in Rakhine State is funded by the Government of Japan.