Khan Younis, State of Palestine, 30 November 2021 - Women, girls, and families in this Palestinian city can now enjoy a new safe, inclusive, and accessible public space entitled the "Haya Promenade" designed exclusively for them.
The promenade, inaugurated earlier this month, was led by UN-Habitat, through the HAYA Joint Programme funded by the Government of Canada, UN-Habitat, in close cooperation with the Palestinian Ministry of Local Government, Khan Younis Municipality, and the Palestinian Housing Council.
The design of the promenade began early this year following a city-wide public space assessment measuring the quality of 134 public spaces in Khan Younis and the limitations affecting the use of these spaces by women and girls. With 14 per cent of Khan Younis public spaces associated with high levels of harassment and crime and 50 per cent deemed unsafe by residents, safe public spaces are especially needed. Located by the Mediterranean Sea, the new promenade provides a comfortable space where the city's more than 200,000 women and girls can easily and safely exercise their rights to the city.
Engaging various groups within the Khan Younis community, design of the promenade included the assistance of four architectural university students through site-specific assessments and innovative tools and approaches to engage the local community, such as utilizing the Minecraft computer game. These approaches included the participation of 40 young community representatives, promoting their skills and knowledge in decision making and leadership.
"Standing in the garden where each element is inspired by our designs, I can say that this unique experience has encouraged our interest and willingness to participate in community development and other types of public engagement," says 17-year-old community representative Reem Bashir. "We are very proud of our contribution in decreasing the gender-based violence in our city by designing safe and inclusive public spaces."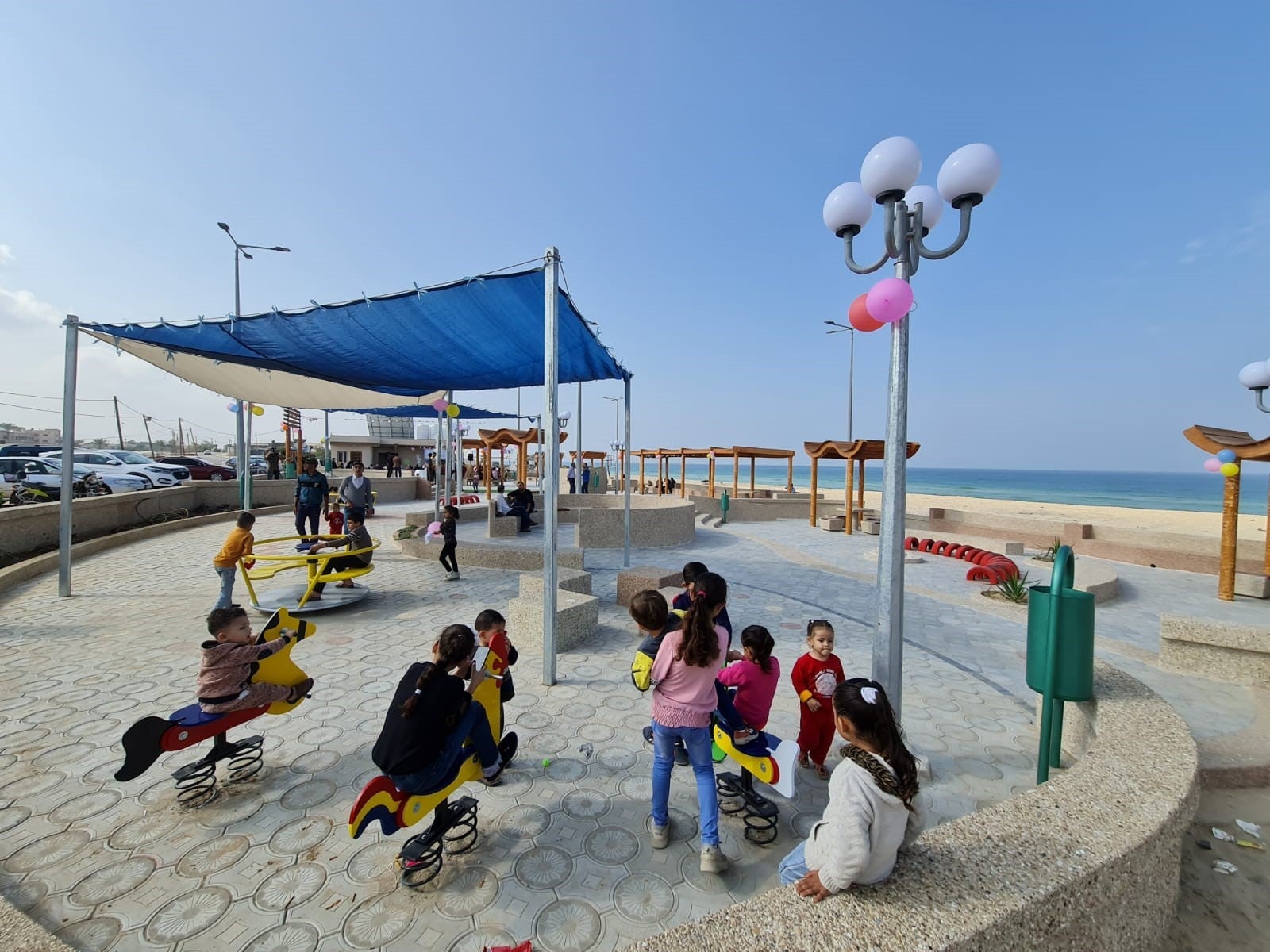 One of the most disadvantaged areas in terms of infrastructure and public facilities, the 8.2-kilometre coastal area of Khan Younis previously lacked a safe, well-designed public space for women and girls to engage in social activities.
Zeyad Elshakra, Head of UN-Habitat Country Programme in Palestine, stressed the importance of these spaces. "We emphasize our commitment to building a better, sustainable, and inclusive urban environment that promotes the equal use and enjoyment of cities without discrimination of any kind, especially for the most marginalized segments in the society, namely women and girls."
Khan Younis Municipality Mayor Alaa El Batta emphasised the importance of new partnerships with local and international organisations in implementing development projects serving the most marginalized segments of the community, particularly women and girls.
"We should provide a space for youth and women to raise their voices and advance their right to being a vital part of the development process," says El Batta. "This newly inaugurated public space serves as great evidence that the development process can be more successful when local communities are heavily engaged in the planning and implementation processes."
The Haya Promenade promotes equity and inclusiveness for women and girls, as well as children and people with disabilities, through provision of adequate facilities such as baby care rooms, accessible bathrooms, and service rooms. Environmental and social factors, as well as continuous operation and maintenance, were also taken into consideration throughout the design process to ensure the long-term sustainability and longevity of the promenade.
Through the development of gender-responsive policies and strategies, UN-Habitat continues to strive to strengthen the capacity of national and local governments to promote safe, inclusive, accessible, and gender-based violence-free public spaces.
For queries, please contact: unhabitat-palestine@un.org
About the HAYA Joint Programme
The HAYA Joint Programme seeks to eliminate violence against women in the West Bank and Gaza Strip. HAYA is funded by the Government of Canada and is jointly implemented by the United Nations Entity for Gender Equality and the Empowerment of Women (UN Women), the United Nations Population Fund (UNFPA), the United Nations Human Settlements Programme (UN–Habitat), and the United Nations Office on Drugs and Crime (UNODC), in partnership with the Ministry of Women's Affairs and the Ministry of Social Development as well as other ministries and civil society organizations.