Ramatou Quaye is a 21-year old boxer and a member of Ghana's National Boxing Team, the Black Bombers since 2014.  Ramatou lives in the Ga Mashie area, an indigenous Ga community of about 200,000 population in the Greater Accra region in Ghana. "I love boxing and that is my job" she says.
Ramatou trains regularly at the boxing centre, one of the facilities of the Ga Mashie Development Agency renovated under the UN-Habitat Participatory Slum Upgrading Programme (PSUP), an initiative of the African Caribbean Pacific Secretariat and funded by the European Commission. The facilities include a dress making centre, homework centre for the children, basketball court, boxing gyms and an open area where meetings are held by the various groups in the community including women and youth, and an art gallery.
As a beneficiary community of COVID-19 response from the UN, Ga Mashie is also benefiting from UNFPA and UN-Habitat Water, Sanitation and Hygiene facilities and services that seek to reinforce measures to mitigate the spread of COVID-19 and improve livelihoods in the community. The PSUP programme is a support towards Ghana's vision to upgrade slums and urban settlements and reduce urban poverty.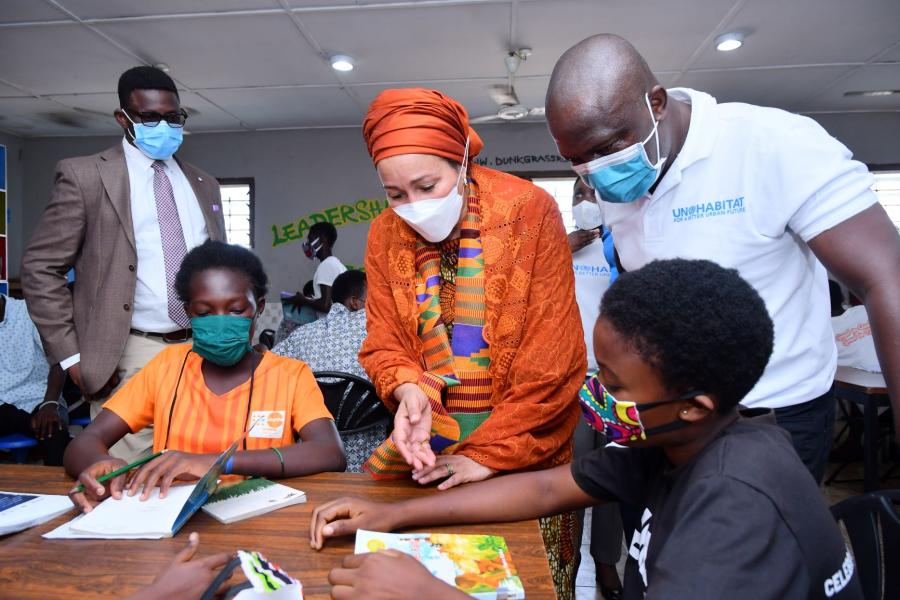 Ms. Mohammed interacting with users of the community library in Ga Mashie
UN/Daniel Getachew
During her visit to Ghana, the UN Deputy Secretary-General Ms. Amina J. Mohammed toured the facilities in Ga Mashie where she and her team had the opportunity to experience the reality of overcrowding, lack of social services especially in this era of COVID-19 in the slums/informal settlements and to witness the impact of the PSUP and the COVID-19 socio-economic response and recovery implemented by the UN in Ghana.
She was welcomed by the Chief of Akumajen, Ga Mashie, Nii Ayikai III with the adornment a strip of traditional Kente cloth amidst drumming to signal her arrival to the community. She also interacted with some beneficiaries of the UN interventions.
Notwithstanding the impacts of the various UN initiatives, the current COVID-19 health crisis has had significant impact on slums and informal settlements especially in the Greater Accra Metropolitan Area of Ghana where the poor and most vulnerable live.