Kenyan Minister praises youth involvement in preventing COVID-19 during launch of UN-Habitat's expanded response
Nairobi, 4 June 2020 – Kenya's youth were praised for their involvement in the pandemic response by the Cabinet Secretary for Youth Affairs during the UN-Habitat launch of the second phase of COVID-19 response.
"As a Ministry we have elaborate plans to engage the youth and we want the youth to plug in. Thank you partners led by UN-Habitat for showing the way. It's partnership for collective success," said ICT, Innovation and Youth Affairs Cabinet Secretary, Joe Mucheru, at the launch at the Kenyatta International Conference Centre in Nairobi.
UN-Habitat has set up 39 handwashing stations along with information centres and temperature checks in the informal settlements of Mathare and Kibera where 400,000 handwashes had taken place. The facilities are managed with UN-Habitat's One Stop Youth Resource centres and the youth have been instrumental in setting up and running the facilities.
"I would like to thank the Government for all its support as we continue to join forces to keep the people of Kenya safe and healthy," said the UN-Habitat Executive Director, Maimunah Mohd Sharif, in a speech read on her behalf by the Director of the African Regional Office Oumar Sylla.
The launch was also attended by the Cabinet Secretary for Public Service and Gender Affairs Prof Margaret Kobia who said women and children were the most affected by the pandemic and the Cabinet Secretary for Labour and Social Protection, Simon Chelugui, who called for joint action to protect senior citizens.
Under the next response phase, UN-Habitat will roll out more hand washing stations in Kibera and Mathare as well as in Eastleigh in Nairobi and in other areas including Nakuru, Nyeri, Kisumu, Mombasa and Mandera outside the capital. Two demonstration facilities were available for demonstration at the launch.
In addition UN-Habitat is partnering with the Victor Wanyama Foundation to distribute 10,000 masks, made by local women's groups, in the informal settlements in Nairobi. The Foundation's patron is the Kenyan national football team captain and former English Premier League player.
UN-Habitat is also carrying out various other projects in Kenya including working with Kenya Association of Waste Recyclers, Nairobi City County, Nairobi Water Company and Dandora community leaders to set up handwashing facilities in Dandora dumpsite and distribute personal protective equipment to informal waste workers.
The agency is also working with the Matatu Welfare Association, and with endorsement of the National Transport and Safety Authority to paint two private minibuses known as matatus with COVID-19 safety and hygiene messages and will  use graffiti art on walls in Kibera and Mathare to spread key messages.
In addition UN-Habitat is working with partners and community volunteers to collect data on the location points of 15 key facilities such as toilets, markets, transport stops, health centres and other  facilities connected to COVID-19 transmission, prevention and treatment in 12 informal settlements and slums to enable the authorities and other stakeholders to identify key gaps in response activities.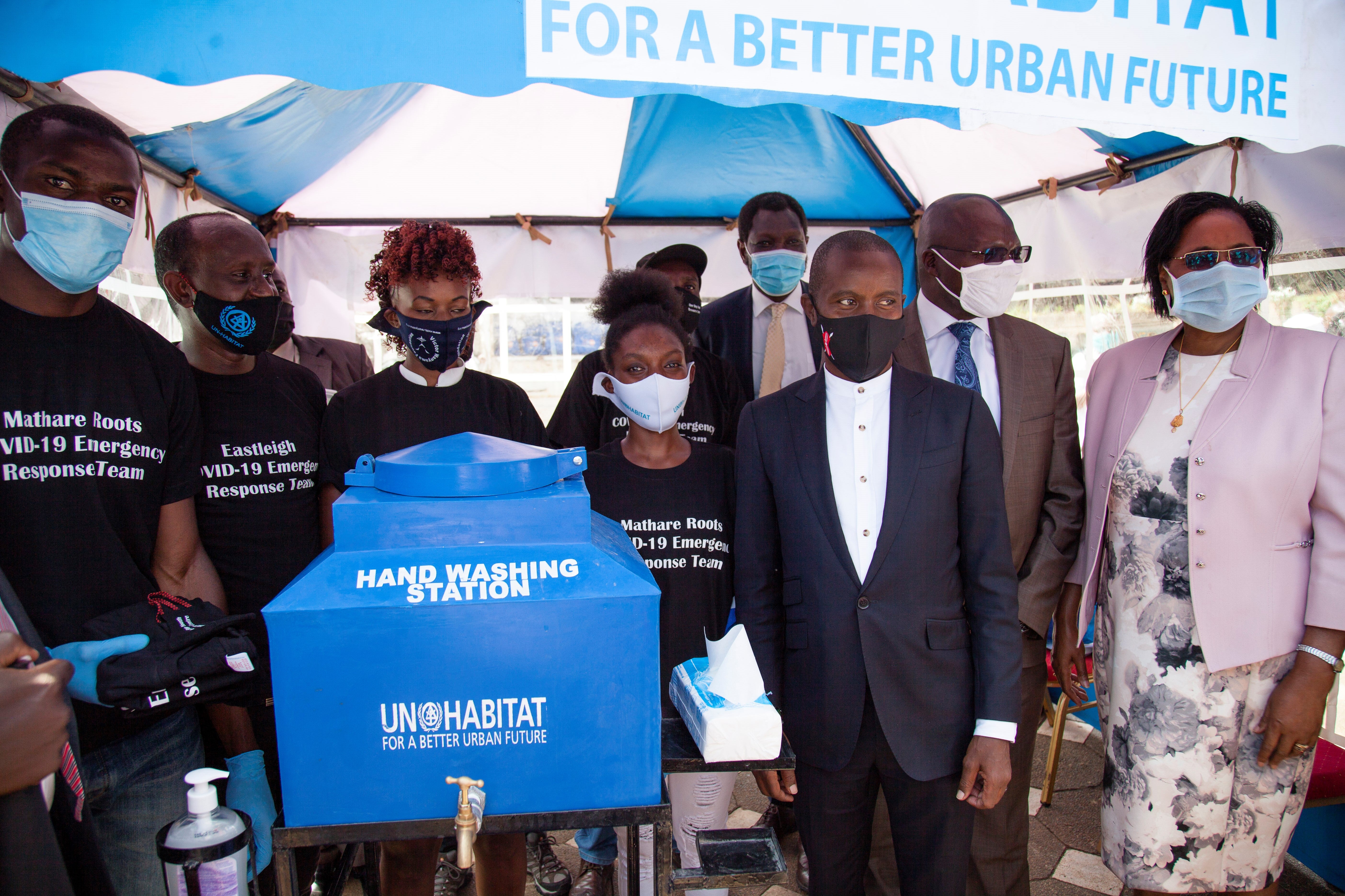 Kenyan dignitaries and youth representatives at the launch of UN-Habitat's second response phase to COVID-19
UNHabitat/Julius Mwelu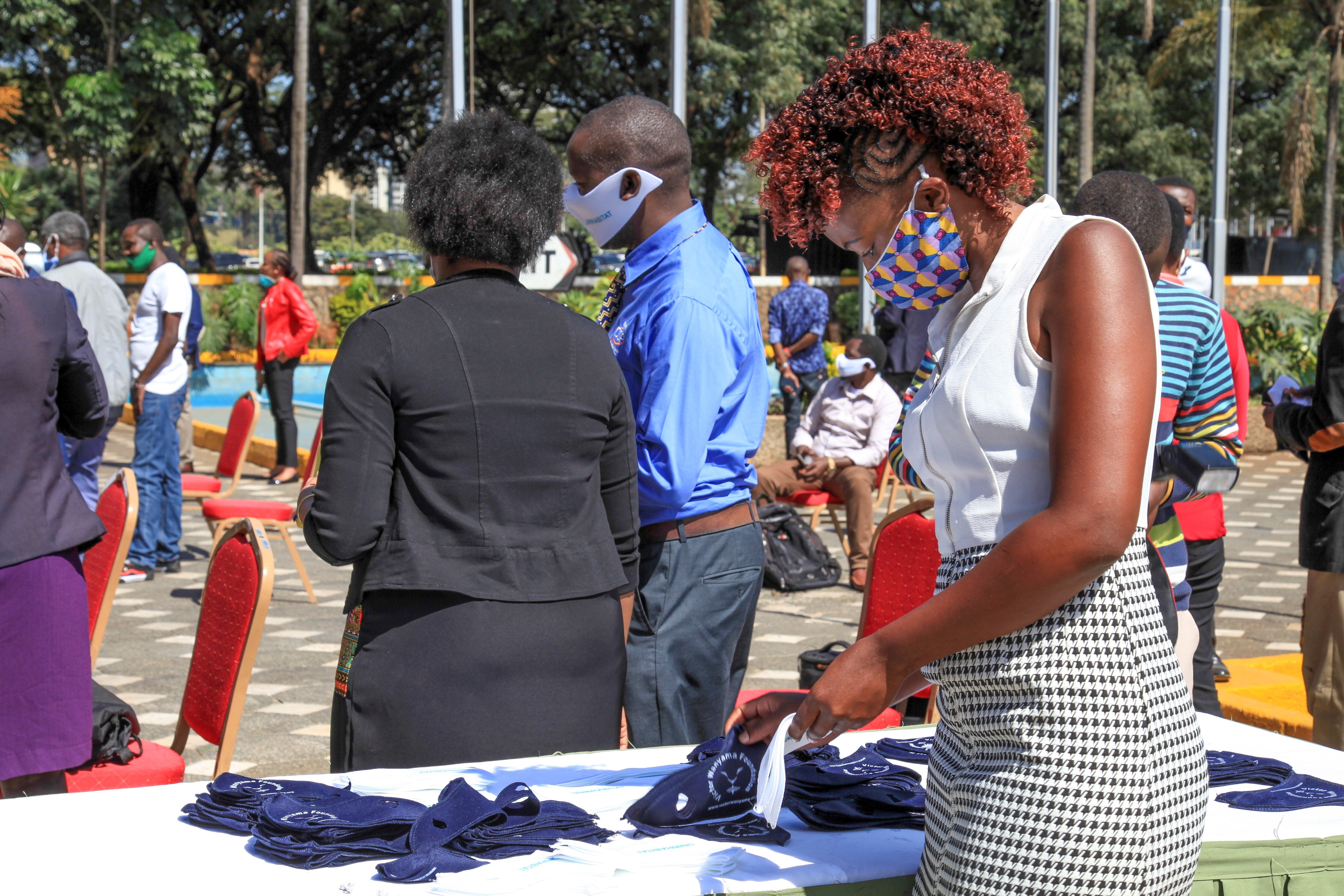 A participant in the launch of the second response phase to COVID-19 in Kenya looks at masks being distributed by UN-Habitat
UNHabitat/Julius Mwelu