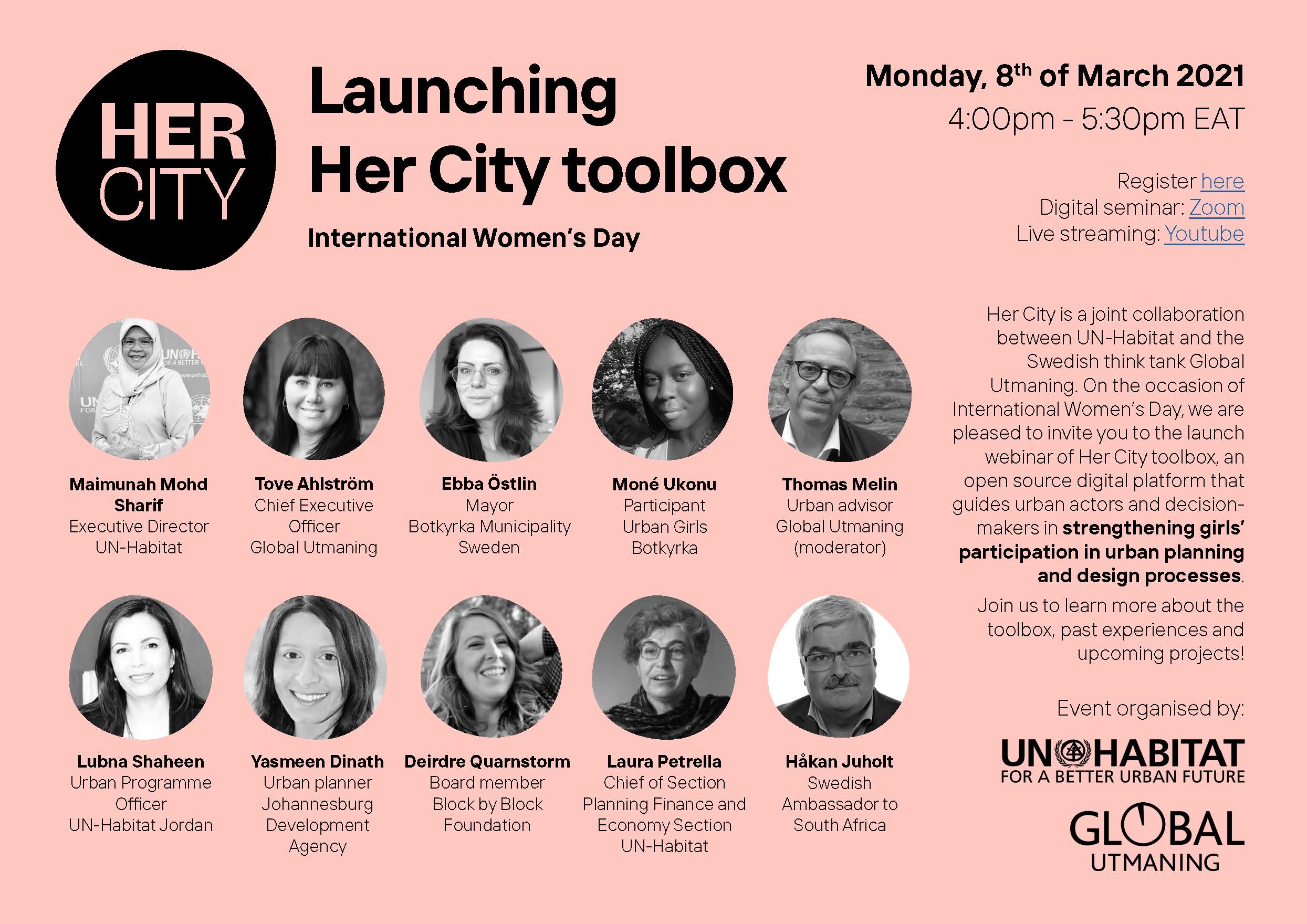 Description
What
On the occasion of International Women's Day, we are pleased to invite you to the launch webinar of Her City toolbox, an open source digital platform that guides urban actors and decision-makers in strengthening girls' and young women's participation in urban planning and design processes. Join us to learn more about the toolbox, past experiences and upcoming projects.
When
8 March 2021 on the occasion of International Women's Day: 16:00-17:30 EAT
Where
Register here
Digital seminar: Zoom
Live streaming: Youtube
Programme
Welcome
Moderator Thomas Melin, Urban advisor Global Utmaning
Keynote
Message from UN-Habitat Executive Director Maimunah Mohd Sharif
Presentation
Tove Ahlström, CEO of Global Utmaning, presents Her City toolbox 
Introduction: Her City participants on Her City toolbox
Ebba Östlin, Mayor of Botkyrka & Moné Ukonu, Participant Urban Girls Botkyrka
Panel: Multi-stakeholder use of the Her City tools
Yasmeen Dinath, Urban planner, Johannesburg Development Agency 
Lubna Shaheen, Urban Programme Officer, UN-Habitat Jordan 
Deirdre Quarnstrom, Board member, Block by Block/Microsoft 
Laura Petrella, Chief of Planning, Finance and Economy Section, UN-Habitat
Comment: Joining perspectives - gender equality and urban planning for sustainable development
Concluding remarks by Swedish Ambassador to South Africa Håkan Juholt
Upcoming regional trainings
Baltic region: 26-27 April
Europe: 13-14 May
Africa: 27-28 May 
Latin America: 10-11 June
Asia: 24-25 June
About Her City
Involving girls in urban development will make the city better for everyone. Participatory processes are key for planning a city that works for everyone. If we let citizens that are rarely heard be the experts, our cities and communities will become more inclusive, equal and sustainable.
The purpose of Her City is to make methods and tools available to urban actors and cities globally. We support cities to scale up and mainstream girls' participation as a part of their long- term strategies to build sustainable cities and societies. The digital toolbox guides urban actors to implement projects through a step-by-step methodology that facilitates the ongoing dialogue between professionals and citizens.
Her City is a joint urban development initiative by UN-Habitat (the United Nations Human Settlements Programme) and the independent think tank Global Utmaning (Global Challenge). It is financed by the Swedish Innovation Agency (Vinnova) with contributions from our partners Block by Block Foundation, White Architects, Swedish Union of Tenants and MethodKit.