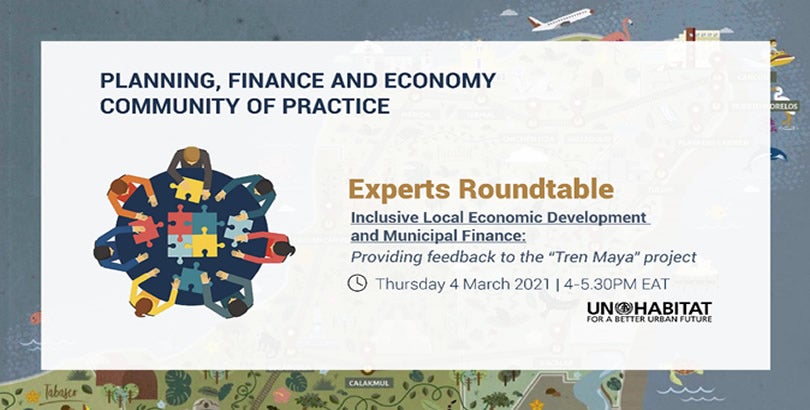 Description
The Planning, Finance and Economy Section is pleased to INVITE you to attend the PFE CoP Experts Roundtable Session, which will take place virtually on Thursday 4 March 2021 at 4-5.30pm EAT.
The Session
The Experts Roundtable Session will revolve around a practical case study, to be presented by one of our Country Offices, on the topics of municipal finance and local economic development around the implementation of train stations in urban centres.
UN-Habitat Mexico Office will present the "Tren Maya" project, and a roundtable of experts will share their experiences, providing concrete inputs to the key topics identified.
Project context
The "Tren Maya" consists in the implementation of a touristic railway infrastructure in the Mexican southeastern region, that will include a total of 18 stations in different states and municipalities. Among others, UN-Habitat is supporting this national project through urban and regional planning and design, land management, financing mechanisms, and local economic development particularly around the train stations in four pilot cities.
Microsoft Teams meeting
Join on your computer or mobile app
Click here to join the meeting
Join with a video conferencing device
Video Conference ID: 123 000 106 4
Alternate VTC dialing instructions