By 2030, provide universal access to safe, inclusive and accessible, green and public spaces, in particular for women and children, older persons and persons with disabilities
Indicator 11.7.1 Average share of the built-up area of cities that is open space for public use for all, by sex, age and persons with disabilities
Cities function in an efficient, equitable and sustainable manner only when private and public spaces work in a symbiotic relation to enhance each other. Public space generates equality, however in the past decades it has been drastically been reduced. Inadequate, poorly designed, or privatized public spaces generate exclusion and marginalization.
Public space is made of streets and open spaces in public use. Streets compose the largest proportion of public space in cities (75 per cent). Public spaces, including streets, are drivers of economic development and generate substantial economic value. Well-planned and managed public spaces have positive impacts on the price of nearby residential and commercial properties. They are also critical for environmental sustainability. City-wide policies and strategies should ensure planning, design and management of public spaces at different scales.
Public Spaces sustain the social inclusion, the civic identity and the quality of life of the city
Public space measured in streets account for 20.8% of the urban surface of the newly built areas of the cities (1990-2015). In early 1990s, this proportion was 25%
Sub-Saharan Africa has the least proportion of public space dedicated to streets with only 16 per cent of the built-up area. On the contrary, cities of the Middle East and North African region have 26 per cent in 2015
Our Work
Global Programme on Public Space
The public space citywide assessment tool provides baseline and monitors progress in achieving Target 11.7; citywide public space strategies assist cities to improve public space. The programme support scities in improving the quality, quantity, distribution, inclusiveness, accessibility and safety of public space. It also contributes to the establishment of global, national and local networks of partners to support the implementation of Target 11.7.
Budget: US$ 2,500,00 per year, from 2016 to 2019
Project implemented globally in partnership with UNWOMEN
One Stop Youth Centers
The Urban Space for Youth programme focuses on increasing the capacity of cities to create safe and generative urban spaces that support the increased engagement of youth in the socio-economic development of cities.
The youth center programme is currently in Kigali, Nairobi, Kampala, Arua and Dar es Salaam. In 2016 it is proposed that work with the Governments of Jamaica, Somali and the DRC, who have committed to developing urban space programmes will be expanded.  
Greater Cairo Region Strategic Development Plan
The project aims to restore the value of important major historical and heritage sites in a way that contributes to achieving economic development and improving the living and environmental conditions for the residents of these areas, and develop a bus rapid transit and non-motorized transportation plans for Greater Cairo.
Budget: 2,400,000
Link to project webpage
Indicator 11.7.2 Proportion of persons victim of physical or sexual harassment, by sex, age, disability status and place of occurrence, in the previous 12 months
Our Work
Safer Cities in Suleimaniyah
The project aims to produce an area upgrading plan for the central bazaar area of Suleimaniyah city, and pilot some of the interventions, contributing to increasing open space for all. The main focus of the project is on safety for women and girls, contributing to reducing the proportion of person victim to harassment or sexual harassment.
Budget: US$550,000
In partnership with UNDP and UN WOMEN
Images
Image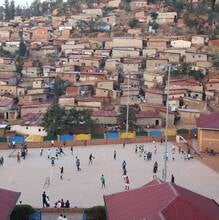 Image