The WASH in DPC Programme aimed at improving sustainable access to disaster-resilient WASH facilities in 265 communities of 24 Districts for the benefit of 200,000 people including 50,000 school children in Disaster Prone Communities in Upper East, Upper West and Northern regions of Ghana. The Programme was designed to provide improved and resilient WASH facilities and services in disaster-prone communities in the three regions. The Programme also provided a framework for Department of Foreign Affairs, Trade and Development to partner with the UN team (in line with UNDAF) and contributed to the national development policy framework (GSGDA, 2014 – 2017) and efforts towards implementation of the Ghana Plan of Action for Disaster Risk Reduction and Climate Change Adaptation.
Image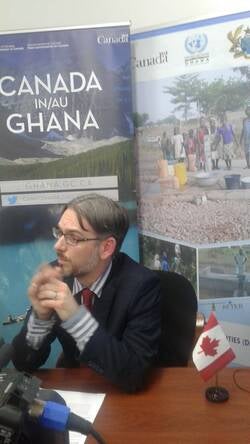 "The point of contact into the UN that UN-Habitat provided proved to be the all-important link that was needed to push the project forward. After the few hitches at the beginning, the project went on smoothly with timely monthly reports being submitted"
Mr. Francis Bedros, the First Secretary (Development) at the Canadian High Commission to Ghana
565
flood resilient water supply facilities to benefit about 203,000 these communities now have a 100 % water supply access rate
1891
individuals (1041 men, 850 women) from 265 communities in 24 districts have been trained as Water and Sanitation Management Teams to manage the 565 resilient water supply systems
85%
of the communities have already achieved or is about to achieve Open Defecation Free (ODF) status.
Related Sustainable Development Goals
Donors and partners
Collaboration between UN-Habitat and its partners in providing access to safe clean water and sanitation has led to a successful implementation of the WASH in DPC programme. In close collaboration with national institutional partners involved in the WASH and Disaster Management sectors in Ghana: the Ministry of Local Government and Rural Development (MLGRD – Focal Ministry for the programme), the former Ministry of Water Resources, Works and Housing, Ministry of Gender and Social Protection (MGSP), National Disaster Management Organization (NADMO), Ghana Education Service/School Health Education Programme (GES/SHEP), Ghana Health Service (GHS).
Partners
Environmental Health and Sanitation Directorate – EHSD Government of Ghana Mini…