Land in Zambia is divided into two tenure categories designated as state and customary land. Customary land covers 90 percent of the country while 10% is state land under leasehold. Documentation of land rights is a major challenge in land administration and management especially for customary land that is controlled by traditional authorities (Chiefs) and administered according to local customs. To improve security of tenure for his people, His Royal Highness Chief Chamuka VI, working closely with People's Process on Housing and Poverty reduction in Zambia (PPHPZ) carried out a community lead mapping and enumeration process through the application of a Social Tenure Domain Model (STDM) with the support of UN-Habitat and GLTN.
Image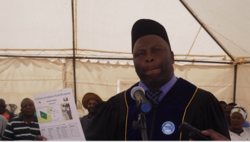 "My chiefdom is situated between two cities of Lusaka and Kabwe. As they are rapidly expanding they will find that my people have already secured the land."
Chief_Chamuka,His Royal Highness Chief Chamuka VI of the Lenje people, Central Zambia
70
men, women and youth trained in participatory mapping and enumeration using STDM
528
customary certificates issued in 11 villages with a population of 3584 people
Of the total population, 52% female and 48 % male
Related Sustainable Development Goals
Donors and partners
The success of the support to customary certification in chief Chamuka area is dependent on the strongly partnership with the Government Ministry responsible for land, civil society and the traditional leadership - the chief. UN-Habitat working closely with the partners engaged communities to take action towards land tenure security in their local area using STDM and gathered sufficient evidence that could inform land policy and legislation in Zambia as regards customary land rights documentation.