Today, UN-Habitat Egypt Office successfully launched the Ras El Hekma New Waterfront City (RAWC) conceptual plan project through the kickoff meeting with the awarded consortium. The well-known British Consulting Firm Callison RTKL and the national consulting firm DSC. Continuous to distinguished achievements that UN-Habitat – Egypt programme support the Egyptian Ministry of Housing efforts, represented by the General Organization for Physical Planning and the New Urban Communities Authority to attain sustainable development and develop the fourth generation of the new cities.
The RAWC Masterplan that UN-Habitat is taking the lead at will secure sustainable, integrated and inclusive approach. This plan shall identify long and medium-term strategies as well as short-term strategic interventions that smart cities can be managed and utilize the future technology as well as flexible innovative solutions and able to adapt forthcoming revolutionary technology systems. The RAWC will lead to the successful implementation of the study area in a way that projects national goals and local aspirations can be replaceable for other established and proposed cities. The outputs are expected to be proactive and attract target audiences, based on assets and goals, while taking cognizance of preconditions, constraints and hindrances.
Ras Al Hekma will be one of the most famous waterfront in the Mediterranean basin designed to compete with top-notch Mediterranean tourism destinations. The city will be conceptualized in a way that reflects its unique location, environment, culture and urban structure. The project reflects the integration and balanced relationship with the surrounding area in terms of the regional development links, especially with regard to the cities of Marsa Matrouh, Alexandria, Alamein and Borg Al Arab. Moreover, based on the establishment of integrated and balanced relations with the surrounding regional development as well as ongoing and proposed national projects. As well as applying innovative approaches to activating public-private partnership (PPP) to emerge as a successful model that promotes sustainable urban development and bridges financing gaps and infrastructure investments.
Bassem Fahmy the Programme Manager states that The United Nations Human Settlements Program (UN-HABITAT) provides an integrated methodology that enables the government of Egypt meant bodies working in urban planning and urban development to build new cities that secure better places in terms of safety, health and greenery with better opportunities to accommodate and adapt to rapid changes. The project will apply the smart cities performance indicators, climate change adaptation strategies and show the paradigm shift that the SP 2020 address. Anas  Aladdin the project will reflect UN-Habitat distinctive works with governments, organizations at all levels, including the various sectors of local government, civil society and the private sector, to help build, manage, plan and finance sustainable new urban cities.
Images
Image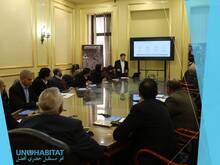 Image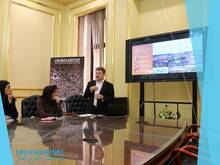 Image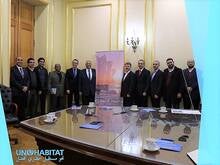 Image